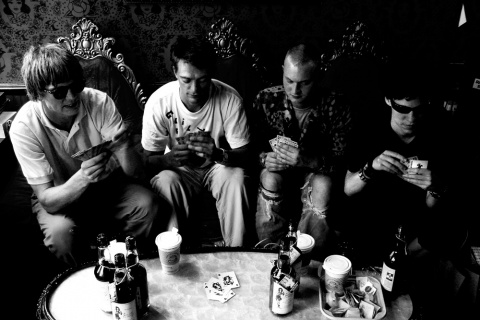 "I STUFFED MYSELF WITH PILLS TODAY
DOESN'T SEEM TO BE WORKING
I'M SUICIDAL IN EVERY WAY
AND IT FEELS LIKE I'M BURNING
IT'S A RAINY DAY
IT'S A RAINY DAY
MY LIFE JUST SLIPS THROUGH MY HANDS
JUST TO FADE AWAY"
Today's song is by a band that I know pretty much nothing about so this could be a very short introduction, fortunately the song's a killer.
No Hope For The Kids were from Copenhagen and featured Jens Johannsen (bass), Kasper Maarbjerg (guitar, vocals), Peter Bonneman (drums) and Ronni Dybdahl (vocals, guitar). Their debut single, Das Reich, was released in 2003 and quickly sold out, it was followed a year later by a self titled album (from which today's song comes). They were popular enough outside their native Denmark that they managed several tours of Europe and the U.S. but as far as I'm aware they split not too long after releasing 2006's Angel's Of Destruction 7".
You can check out the album here :
http://hjernespind.bandcamp.com/album/no-hope-for-the-kids
This is Rainy Day......