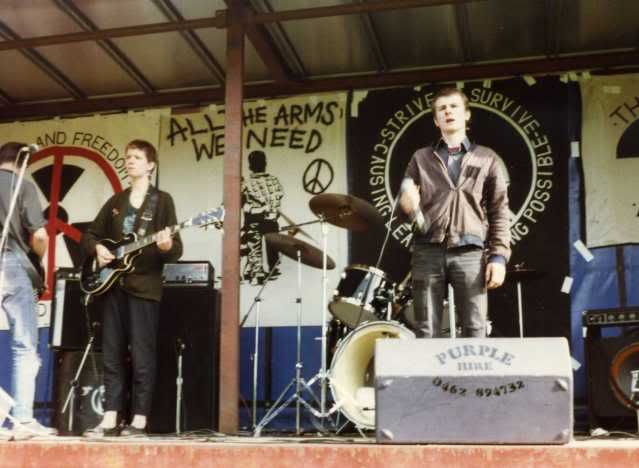 Back in the mists of time, in the days when I was a schoolboy, it wasn't rare to see Anarchy signs spray painted on walls, I even had a few on the covers of my school books. Bands like Crass, Poison Girls, Zounds, Conflict, The Mob etc were spearheading a movement that gave many a young punk an introduction into the world of politics and even if we didn't all agree with everything we heard, we still pretty much began learning that discrimination, greed and warmongering were all things worth protesting about.
One of the best songs to be released back then was Tube Disasters by Flux Of Pink Indians (hell, even 35 years later there's not been too many better). Hailing from Bishop Stortford, Herefordshire, in 1980 and formed by members of a band called The Epileptics they brought out their debut Neu Smell ep on Crass Records. Featuring the aforementioned Tube Disasters, it should be in everyone's collection.
1982 saw them release their first album, Strive To Survive Causing Least Suffering Possible. I think the following lyrics from Some Of Us Scream, Some Of Us Shout sum the album up pretty well.....
"we're all conditioned to think ten tellies are better than one
and to blow this world up ten times is better than to blow it up once
billions spent on destroying the world while millions starve
where did we go wrong"
More angry punk rants followed in 1984 in the form of The Fucking Cunts Treat Us Like Pricks, a double album that was banned by many record shops and saw charges brought under the obscene publications act. Targets on this one ranged from The Falklands War to The Sun Newspaper.
By 1986's Uncarved Block album they were starting to experiment with their sound and it was around this time they shortened their name to Flux. They didn't last much longer (though they did reform in 2007 for a gig supporting Crass vocalist Steve Ignorant which led to a few more appearances).
One of my favourites of theirs (and one which hopefully won't be quite as familiar as Tube Disasters) comes from the Strive album and is called Tapioca Sunrise. It taught an impressionable school kid that war is stupid a few years before Boy George and Culture Club got in on the act........
your hateful nuclear weapons
are mere props for your aggression
more tools for further oppression
die with your..... possessions
the blatant colonel gave the command
and millions died in a far away land
the atom bomb was dropped
just as he had planned
and the whole city
was reduced to sand
innocent animal and people of towns
slaughtered as the bombs poured down
we won't fight your war
we've seen it all before
millions dying in anguish and pain
we don't wanna see war repeated again
another man dead is one less to fight
as proof of what is right
they've got atom bombs on the land
part of the military strategy they've planned
they've got atom bombs in the air
part of their deterrent - it's difference through fear
they've got atom bombs at sea
just another pawn in their nuclear artillery
it becomes very plain to see
that i can't get away from the threat
that continually hangs over me
soldiers on opposing sides
both prayed to the same god in the sky
hoping he would protect them
so they wouldn't have to die
but praying eased only minds
and didn't save anyone
the bombs still fell
killing millions of innocent men women and children
war is governments arguments they have failed to control
war ain't fun, war is stupid, war is painful
and war can never be won
war does not pay
war does not pay
war does not pay